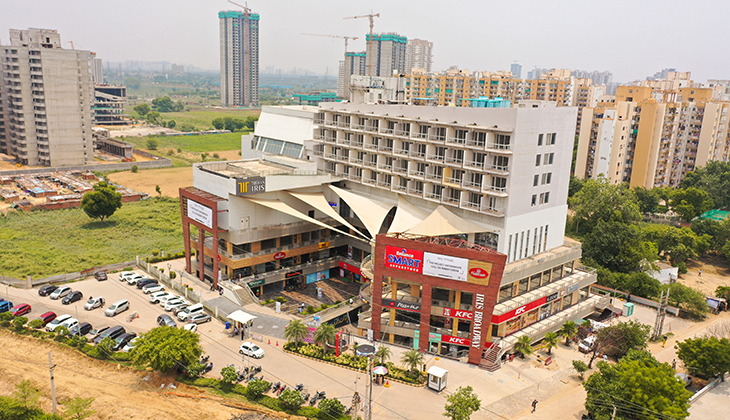 Trehan Iris Broadway is commercial project which is one of the first hybrid mall at Greater Noida West. The project with its finest location also lets you fit within your purchase of shops, retail space, food courts. The project is an awesome opportunity for investors and with its look creates every aspect to be fascinating. The design is by world renowned architect "Benoy". The retail space here is at price of just Rs 25 lacs which is the minimum investment to start your dream venture. The project adds as biggest development in Noida Extension. It has smart IT Offices, hi-tech 24/7 security and cctv at necessary places that makes safety as priority. Gaur The Islands Price List / Gaur Mulberry mansions Price List / Gaur city 1st avenue Resale Price / Apex Aura
Trehan Iris Broadway comes with one of the first of its kind business and lifestyle destination. It has multi-purpose business facilities on offer and with good number of floors. It has lower ground floor, first floor, second floor and 3rd floor with retail space of 150 sq ft, 250 sq ft, 297 sq ft. It reaches up to 20th floor which projects as iconic office building too. It has easy to reach with high speed elevators and lifts, modern and well maintain washrooms. A hallmark development by Trehan group's with successful delivery and offers best of mall management. The project creates with smart infrastructure and world class architecture. It has advance central cooling and sophisticated fire safety systems that makes it with prominent safety regulations.
Trehan Iris Broadway adds with new age security, modern fitments and excellent connectivity on offer by Noida-Greater Noida Expressways. It has soon to add metro connectivity that will reach till Noida Extension and propose station is at walking distance. There is FNG Expressway which is just 10 minutes from project. It adds with immediate connectivity towards Jewar airport. East Delhi and Akshardham is just 25 minutes away from project. It adds with good number of footfalls as the development is within good number of housing zone. The upscale demography has schools, universities, IT/ITES spaces. It adds with various other factors that makes it one of the project with ease of availability.
Trehan Iris Broadway adds with 5 large anchors, dedicate floor for entertainment center, multiplex with 1000 seats. It has double height ground floor with shops up to 25000 sq ft. The development has partially shade with Central atrium, food court floor, lower ground floor with full air condition. It has 4 large banquets with landscape terraces and 4 star hotel tower.
Trehan Iris Broadway has some specific highlights that makes it look different with multiple other projects. It has Golden Petal design by Uncommon land, USA. It adorns large central atrium of mall. It has 6 independent entry/exit, drop off points for retail, banquet, hotel and offices. 6 large anchors gives view from road that adds with road frontage. It has triple height entertainment center. There is large landscape terrace, restaurants. The banquet hall adds with capacity of 1500-2000 people. There is large conference room for all the meeting needs, gym, spa to stretch out and stay healthy.
This all aspect makes it one of the best project where business beckons.