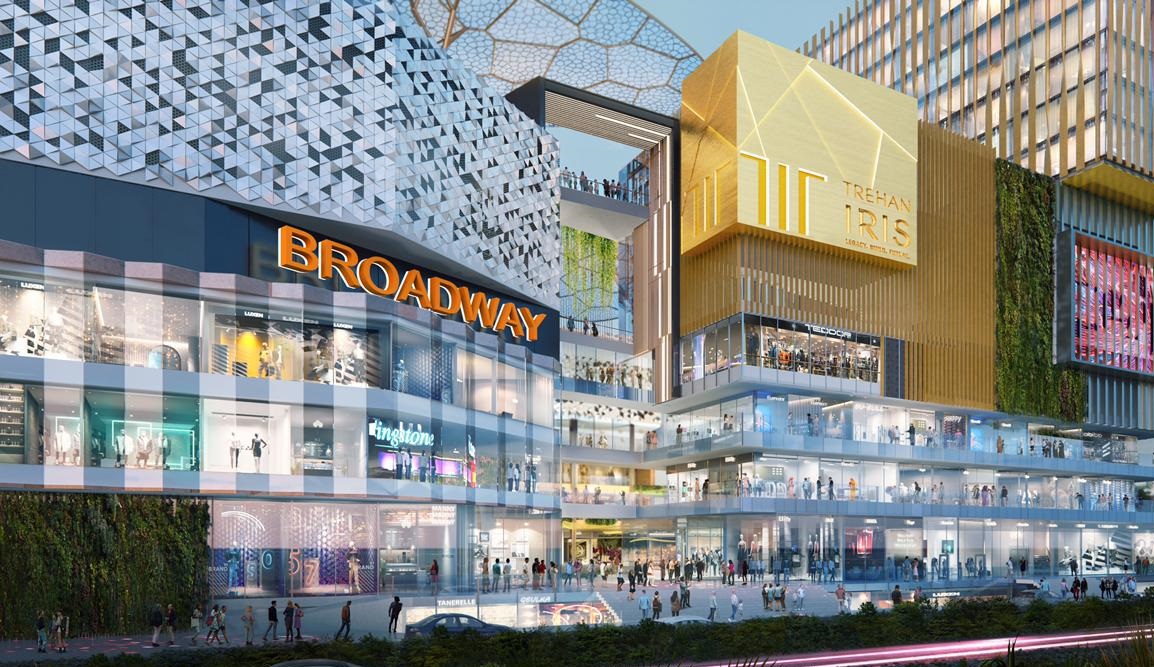 Trehan Iris Broadway is a commercial project and is first hybrid mall at Noida Extension or Greater Noida West. The project is one of the first with good number of architectural innovation and is design by world famous architect Benoy. The project is known for its urbanization and leads to economic growth which leads to creating of new entrepreneurship development. The commercial project adds with golden opportunity and is ideal for budding entrepreneurs whether in retail business of office development. It has best of the ideal working spaces and is best suited for IT/ITES office spaces. It adds to innovative start-ups, business development and smart ideal working spaces.  Gaur city 2 apartments / Gaur siddhartham location / Gaur city 2 resale apartments
Trehan Iris Broadway has retail space with area of 326 sq ft and retail space with area of 3600 sq ft. It is project with 5 large anchors, multiplex with 1000 seats. It has dedicated floors that gives best of the entertainments. It connects well with propose metro station within 6 meters from project. It has double height ground floor with shops that has height of 25000 sq ft. It has partially shaded central atrium and has 20 storey high iconic office building. It comes with partially shaded central atrium, food court floor, lower ground floor that is fully air condition. The project has 4 large banquets that adds with landscape terraces and comes with 4 star hotel tower.
Trehan Iris Broadway has commercial showroom with area of 1252 sq ft, commercial shop with 133 sq ft to 1200 sq ft. The commercial shop has area of 133 sq ft, 705 sq ft, 500 sq ft as well. It makes easy to choose the right size of shop for endeavours. The project has been built after 6 decades of experience into the construction industry. It comes with prime location in Delhi-NCR. It adds with end-to-end solution and comes with end to end management and better delivery practices. It has become trusted brand which adds with best of experience in construction field.
Trehan Iris Broadway adds with some exclusive business developments. It comes with work and play redefine which adds to business recreation and entertainment. It has best of lifestyle amenities that comes with terrace pool and has all-day restaurant and bar. It has gym, spa, lounge facility and business centre. The project has best of shopping, entertainment zone and supermarket as retail development. It has better concierge services which adds to personalize services with dedicate concierge at service. It has professional management services that creates spic and span maintenance of premises.
Trehan Iris as developer adds with 6 years of construction experience. It has deliver more than 2 million sq ft of space. It comes with more than 9 project deliver and has 1 + international design consultants. The project has come up with office hubs, retail and hospitality, residential abodes and with best of farms and villas. Trehan Group has been part of developing New Delhi and has come up with projects for DDA, CPWD, PWD all over Delhi-NCR. This makes it one of the prestigious and establish real-estate business developers.